The PTS Pipehandler machine:
Operating Limits & Capacities o Maximum pipe dimensions: Diameter: 7″, Weight: 2500 lbs., Class: Range 2
Cycle time (boom at rest to maximum extension and back): < 30 seconds
Pipe rack minimum height: 18″
Maximum height of pipe on 18″ rack: 60″
Rig floor height (from ground level): 3′ to 21′
Physical Dimensions Overall Length : 39'6″
Conveyor Length (boom): 36'8″
Conveyor Length (tilting section): 34′ o with high-density polyethylene plastic
Frame Width: 36″
Frame Width (conveyor section): 32″
Weight (thousand lbs.): 9.5
Framework: 3×2 x 3/16 and 3×3 x 3/16 o Structural tube steel A500 grade B
Main boom: 6×12 x 5/16 o Structural tube steel A500 grade B
Power Systems o Engine: Deutz diesel engine (D914L03) with hydraulic throttle control (54.9 hp @ 2300 rpm)
Hydraulic pump: Load sense piston pump (40.0 gpm @ 2000 rpm)
Pressure gauges and relief valves on the system
Hydraulic valves: Open center type with full feathering capability
Hydraulic cylinders o (1) 4″ x 72″ stroke (push-pull) with cushions on both ends
(2) 2 1/2″ x 6″ stroke (tilt)
(2) 3″ x 26″ stroke (jacks)
(4) 3″ x 14″ stroke (jacks)
(2) 4″ x 2″ x 80″ stroke (lift)
Hydraulic oil capacity/type: 60 gallons, AW-46
Diesel engine fuel capacity: 40 gallons
Electric hydraulic oil cooler
Mechanical and hydraulic safety valves in critical areas
Transporting System o 40' Gooseneck trailer
Electric brakes
DOT approved lights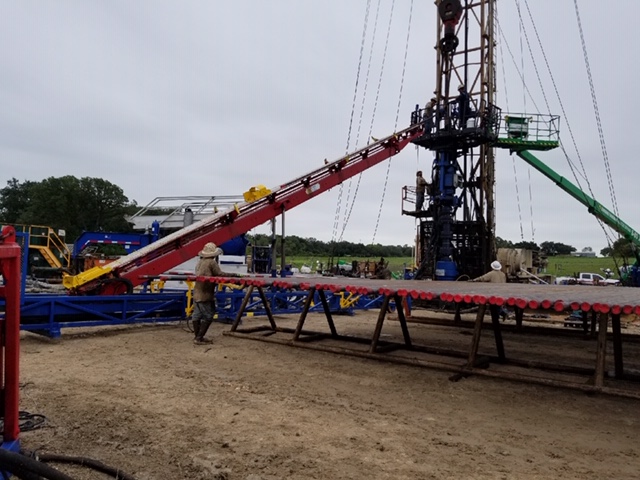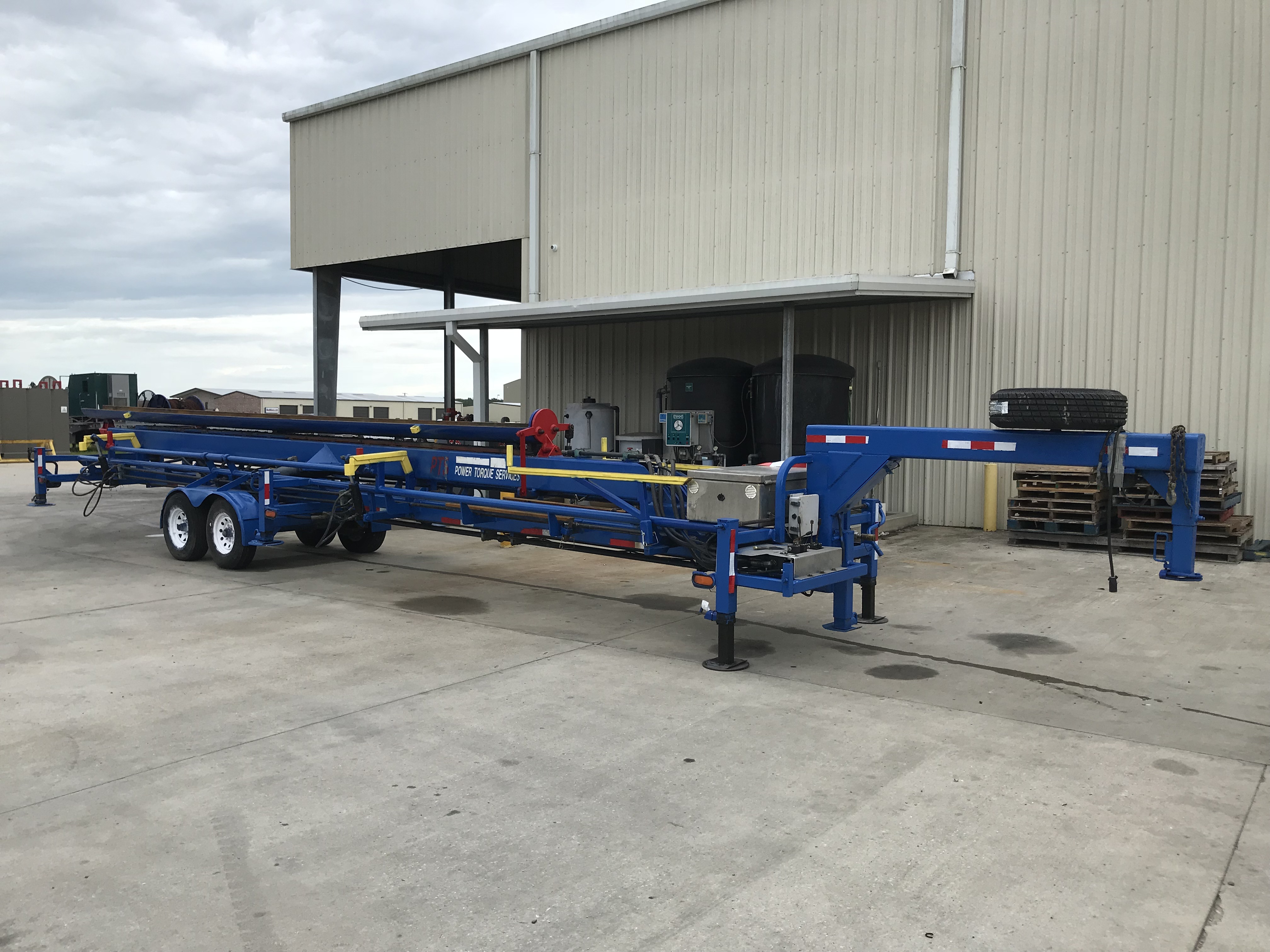 The PTS Vektor machine is an electronic over hydraulic powered pipe pickup laydown machine or as some may call it a hydraulic catwalk. The maximum height of the trough is 32′ tall and with your tubing overhanging the edge of the trough to properly lift out the maximum height is in excess of 32′. 12"minimum pipe rack required. At maximum height and with a maximum side wind load rating of 80 mph the Vektor can safely deliver 1200 lbs. to the rig floor, at lower heights it can deliver more weight under the same stressful conditions up to 2800 lbs. The Vektor has an overall length of 45 feet and overall width of 7 ½" feet. It's lightweight yet stable design allows the trailer to be moved around with ease from well to well or from shop to shop. Finally, all necessary points of contact are coated with a unique polyurethane blend to prevent any mishandling of CRA tubulars.